The food you intake is not just meant to fill your belly, or satisfying your taste buds- it also provide requisite energy for your day-to-day activities. The important nutrients present in your food helps to build your body. It re-vitalizes your immune system which helps you to fight against diseases.
Not all food is good or healthy for your body. Some food depletes energy, impairs your digestive system, and poses a health risk. Other foods act as fuel providing energy, increasing stamina, and acts as natural agents that boost up your disease-fighting abilities.
What are Vitamins?
Vitamins are an important part of your daily requirement of food. They are organic molecules that are required in smaller quantities that help in the proper functioning of metabolism. These essential micro-nutrients cannot be synthesized by the body on their own, and hence must be obtained from the food you intake.
In this article, we will discuss the important vitamins required by the body daily, and the food sources, which are rich in these vitamins.
Foods high in Vitamin A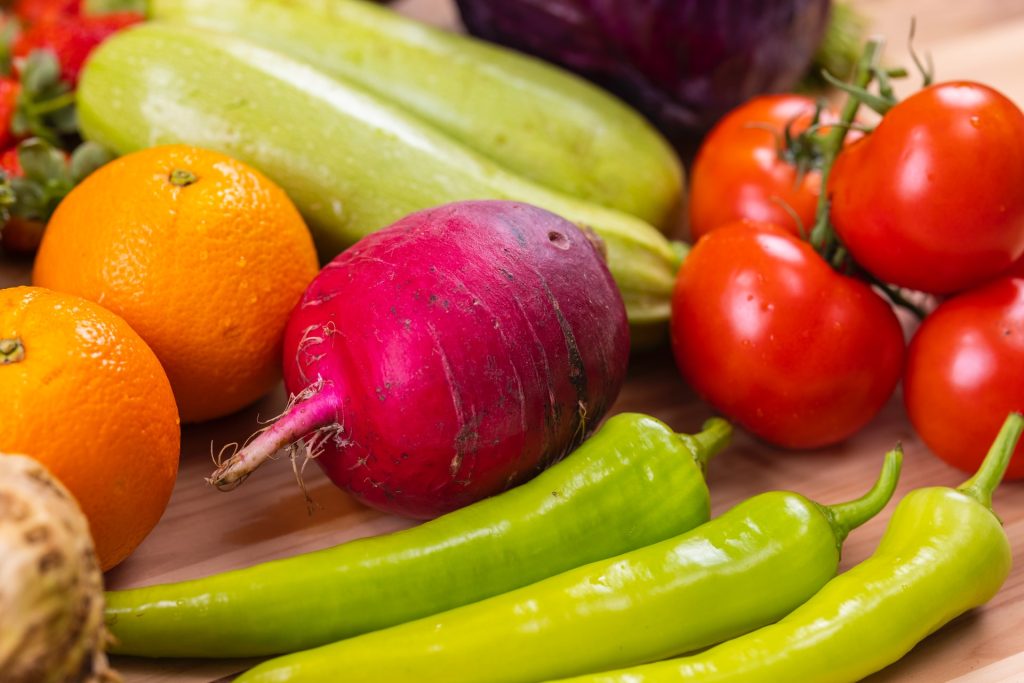 Vitamin A is a micronutrient that is fat-soluble. It is required by the body in smaller quantities for healthy teeth, soft tissues, bones, and glowing skin. It boosts the immune system and helps to ward off bacterial and viral infections. A deficiency of Vitamin A can cause night blindness. It also keeps your hair and nails healthy.
Foods that is rich in Vitamin A
Apricots
Carrots
Winter squash
Sweet potatoes
Spinach
Collard greens
Some spices like red pepper, paprika, chili powder, and paprika are also high in Vitamin A.
Vitamin B
Vitamin B-6, B-9, and B-12 are essential micro-nutrients that help in the proper functioning of the nervous system. It also helps in the synthesis of DNA. It is an essential ingredient for the formation of red blood cells. In addition to that, it is essential for proper brain function and metabolism. A deficiency of Vitamin B can cause anemia.
Foods that is rich in Vitamin B
Seafood, which includes mussels and oysters.
Meat, fish, and poultry.
Eggs.
Milk
Leafy green vegetables
Some breakfast cereals
Fruit juices.
Vitamin C
This micro-nutrient is also known as ascorbic acid. It acts as a powerful anti-oxidant. It maintains the health of the body cells. It helps in the proper absorption of the body's requirement of iron. It helps in building the immune system by preventing infection, healing wounds, and protecting gums and teeth.
Foods rich in Vitamin C
Citrus fruits
Broccoli.
Papaya
Strawberries
Bell peppers.
Brussels sprouts
Dark leafy greens, like mustard green, kale, and chard.
Vitamin D
It is an important micro-nutrient that may be absorbed from the food we eat, and can also be synthesized by direct exposure to sunlight. It is very essential for your bone health and the proper functioning of the immune system. It helps in calcium absorption by the body. According to the recent researches done by National Cancer Institute, Vitamin D reduces the risk of colorectal cancer.
Foods rich in Vitamin D
Although direct exposure of your skin to sunlight is the richest source of synthesizing Vitamin D, certain foods also supplement the requirement of Vitamin D for the body.
The main food sources of Vitamin D are-
Milk.
Egg.
Some fishes and seafood like salmon, catfish, herring, oysters, and trout.
Shiitake mushrooms.
Vitamin E
Vitamin E is a powerful anti-oxidant like Vitamin C. It helps to build the body cells. It also aids in the regeneration of damaged cells. It helps in the absorption of vitamin K in the body cells, and repairs muscle cells.
Foods that is particularly high in Vitamin E
Spinach
Bell peppers
Sunflower seeds and almonds
Asparagus
Swiss chard
Turnip greens
Vitamin K
This vitamin is particularly important in the formation of the blood clots, in case of any wound or bleeding. Without it, the blood clot would not be formed, and therefore you can die of bleeding from a simple cut. As a food supplement, it is essential for the strengthening bones in older adults.
Foods that is particularly high in Vitamin K
Spinach, kale, collard greens, turnip greens, and mustard greens.
Parsley
Brussels sprouts
Romaine lettuce
Broccoli
Asparagus
Some suggestions regarding the intake of Vitamins
It might be tempting to take multi-vitamin capsules to fulfill the vitamin need of the body. But according to recent studies, pills are no substitute for a well-balanced diet. A well-balanced diet consisting of the food mentioned above should be taken on a regular basis to get the best results. In case, you are suspecting that you are missing the essential nutrients in your regular diet, you might consult a dietician for a diet chart. You can also consult a practicing physician, who would prescribe any supplementary pills if found necessary.
Along with a regular regime of workout, or brisk walking; a healthy meal plan goes a long way to keep you fit and kicking. You should take a small amount of food at short intervals, rather than the intake of heavy meals after long breaks. The small amount of food taken after every short interval would enable your body to absorb the vitamins and minerals more efficiently. It keeps the metabolism in order, and also helps you to maintain a proper weight.
In case you are pregnant, you can take prenatal vitamins, but only after consulting a physician. Women who have a history of multiple carrying, pregnant teenagers, and pregnant women who had a history of substance abuse are more prone to vitamin deficiencies. It can seriously impair the proper growth of the baby, and hence they should take prenatal vitamins, after consulting a physician. It may be added that women who are breastfeeding should continue taking prenatal vitamins after delivery. These vitamin supplements would help a lot in the lactating period as they provide the important vitamins and minerals required to make breast milk.
Food habit goes a long way in slowing the aging process and retaining a youthful vitality in the individuals. Some simple changes in food habits and life-style ran retain your youth for a longer period of time.