There had been a revolutionary change in technology in the early twenty-first century. This has paced up our lives, and we remain stressed and anxious at the end of the day. Yoga has great recipes for you to de-stress yourself. Here is a list of nine yoga poses you should try. All you need is a yoga mat and you can wear any comfortable dress. The nine yoga poses are as follows-
Hero pose
This is a pose consisting of a seated posture that calms your mind. You must focus on your breath and breathe easily.
Muscles worked upon:
Quadrupeds
Knee muscles
Ankle muscle
How to do:
First, you should take a kneeling position. The knees should be kept together. Your feet should be a little wider than your hips.
If you feel a little uncomfortable in that position, you can add a pillow cushion below your feet.
Place your hand comfortably on your thighs.
You should be seated up with your spine straight.
Hold this pose for five minutes.
Tree Pose
This is a classic pose in the standing posture that helps you to quiet your mind. You can focus inwards and feel complacency by this posture.
Muscles worked upon:
Abdominals
Tibialis anterior
How to do:
From a standing position, slowly bear your weight on your right leg and lift your left leg to a right angle to your hips.
Hold this pose for two minutes.
Repeat it with the other leg.
Triangle Pose
This is an energy-generating pose that helps you to ease the tension created on your back, due to anxiety or stress. A whole lot of muscles get a workout.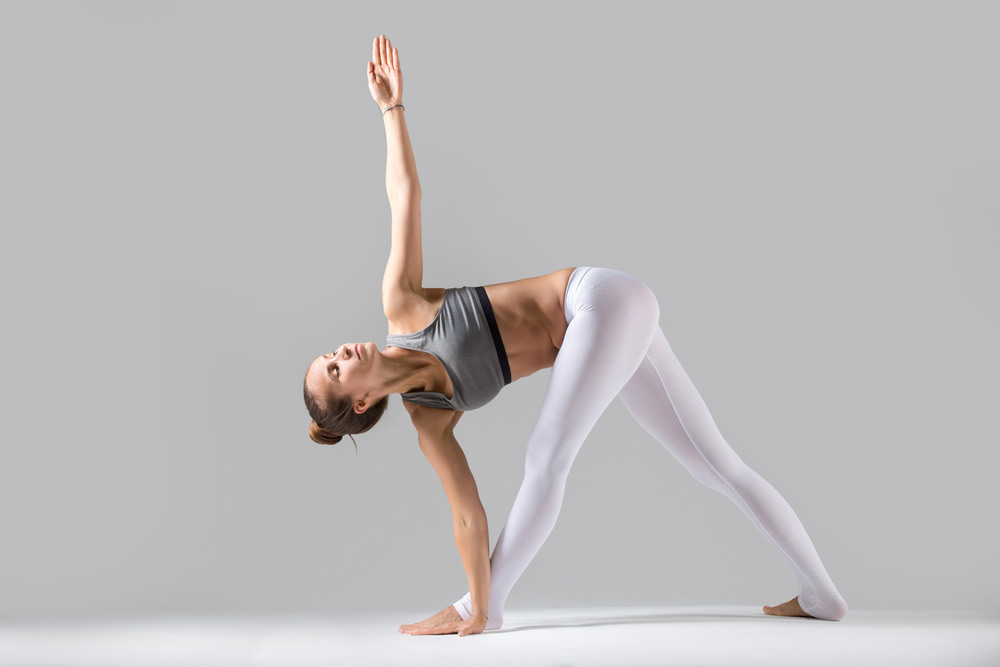 Muscles worked upon:
Latissimus.
Hamstrings
Quadriceps
How to do:
First, stand in a position so that your feet are wider placed than your hips.
Lift your arms slowly extending from the shoulder.
Take your left hand touches the floor.
Your right hand should be directed toward the ceiling.
You can gaze comfortably in any direction.
Hold the pose for about one minute.
Repeat it with the opposite side.
Standing forward bend
This is a resting standing pose that helps in the relaxation of the whole body. It helps to relax your mind. It relieves tension.
Muscles worked upon:
Spinal muscle
Hamstrings
Gastronomic organs
How to do:
Stand in a posture in which your legs should be apart at your hip's length.
Exhale while you fold forward from your hips, with your hands touching your feet.
Hold the pose for about one minute and then stand up again.
While folding forward take care you do it slowly and don't hurry.
Fish Pose
When you feel anxious, you sometimes feel tightness in your chest and back. This pose would help to release the tension of the chest and back.
Muscles worked upon:
Hip flexor
Abdominals
Intercostal
How to do:
You should firstly bring yourself in a seated posture so that your legs are stretch in front of you.
You should then place your hand underneath your buttock.
Then squeeze our elbows together to extend your chest.
Hold the pose for about one minute.
Extended puppy pose
This quiet and complacent movement is a heart-opening pose that relieves the tension of the entire spinal cord. Most of the muscles of the spinal cord are worked upon.
Muscles worked upon:
How to do:
First, you should come to a table-top position.
Extend your hand forward until you gently touch your forehead on the floor.
Hold the pose for two minutes and then come to the initial position.
Child's pose
This is a relaxing posture that relieves anxiety and brings in you a child's spontaneity. It eases stress and working fatigue.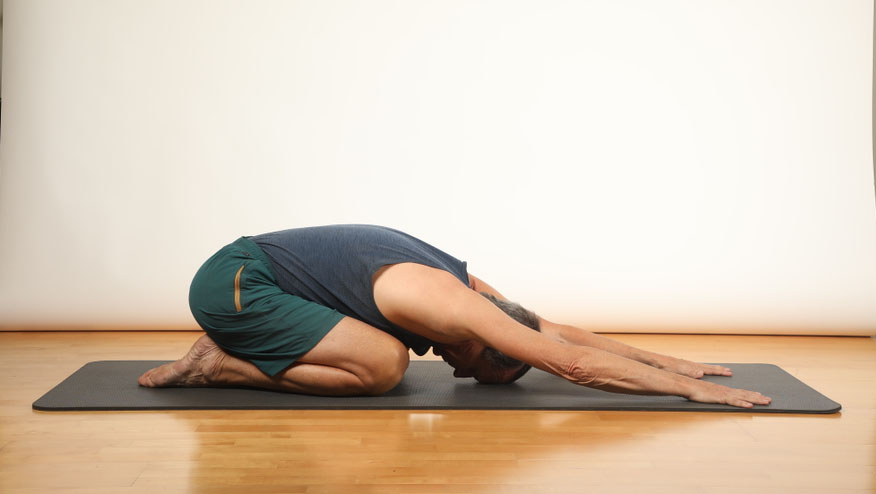 Muscles worked upon:
Rotator muscles
Hamstrings.
Spinal extensor
How to do:
You should firstly sit in a kneeling position and then sink back to your heel.
Then fold forward so that your hands are stretched out.
Hold this pose for up to 5 minutes.
Head–to–knee forward bend
This pose is specially meant to ease your nervous system.
Muscles worked upon:
Groin
Hamstring
Gastronomical organs
How to do:
Firstly, sit on s cushion or a folded blanket with your left leg extended.
Press the sole of your right foot underneath your groins.
Hold the pose for 5 minutes.
Repeat the same posture with the opposite side.
Stay calm for 5 minutes.
Seated forward bend
It is believed that this posture would calm the mind. It will relieve anxiety. Take time to turn inward, and experience the calm.
Muscles worked upon:
Pelvic muscles
Gastronomic muscles
How to do:
Firstly, you must sit at the edge of folded blanket or cushion,
Inhale while you lift your arm.
Slowly move forward and touch the floor with your arms.
Remain in this position for 5 minutes.
Yoga is a great way to relax your body and your mind. It is based on the belief that mind and body are inextricably linked. So while you work on these above-mentioned yoga poses. If you practice them every day for fifteen to twenty minutes, he or she would feel relaxed and de-stressed.
One thing we should keep in mind is about giving strength and vitality to the body. It would also lend quietness in the random chaos of the mind. Just take care that while you practice these above-mentioned yoga practices, you should do all the actions slowly with calm movements.
The need to work and earn money for a decent living leaves us stressed after a day's work. If you come home fatigued, you can try these poses to stretch your body and feel mentally relaxed. The chaos inside, when calms down, you would feel an inner complacency that leads to lasting happiness. So try these poses at your home or ask for the instructor at your gym to lead you to the nuances of these nine yoga poses meant to relieve anxiety.